My second most favorite thing about a trip is reliving it after I get home. (My favorite part is of course the trip itself!) My husband, our twins, and I traveled to Ireland and Scotland in May 2018. It was a combo big birthday (my husband) and college graduation (twins) celebration. We deliberated for quite some time over the itinerary but settled on a place we hadn't yet been – Ireland – and a place we'd visited when the children were, well, children – Scotland.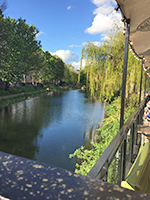 Dublin, three nights: We loved seeing Book of Kells at Trinity University and touring the Guinness Storehouse and the Teeling Distillery. The Temple Bar area was everything we'd been led to expect – crowded, noisy, vibrant, and fun. Yes, pretty touristy, but we are tourists so we enjoyed it! Our Airbnb apartment was near the Grand Canal – a lovely area with nice restaurants and shops.
Dingle, three nights: The drive to the Dingle Peninsula was worth it. Beautiful scenery! And Dingle is just wonderful. Very windy, but a darling wee town nestled along the coast. Our VRBO home was just outside the village, very spacious and warm.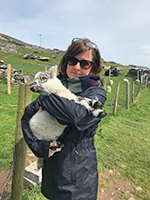 The area surrounding the village is easy to explore – we drove the "Dingle loop," which has plenty to see along the route. Prehistoric beehive huts, hills to climb, lambs to cuddle, shoreline to walk… I could go on and on. Pack a picnic!
Dunblane, three nights: Dunblane Cathedral is outstandingly lovely and full of history. Dunblane is not far from Stirling, so we enjoyed an afternoon exploring the Castle and eating. A drive to Glen Coe for hiking was a highlight of the trip!
A must see is Duone Castle. If you are an Outlander fan, you will love it. We are not – but luckily it is also the setting for scenes in Monty Python and the Holy Grail! (That probably tells you a little more about my family.) And even more fortunately, it is a fascinating place even without the movie connections.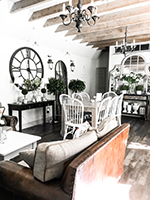 Another find – The Courtyard Café in tiny Fintry. We have friends in that part of the world who took us for lunch. We went back again, it was so delicious and the people so very friendly. (Photo courtesy of Emily Swan.)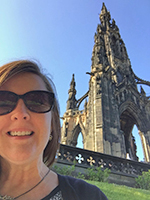 Edinburgh, three nights: Edinburgh is a charming place, filled to the brim with history. We strolled the Royal Mile and spent the better part of a day in Edinburgh Castle. Sitting in the sun at Princes Street Gardens was a relaxing way to finish a long afternoon – and I couldn't resist a selfie at the Scott Monument.
Edinburgh is a wonderful place to fly out of! There is a Hilton Doubletree within walking distance, but they offer a shuttle every five minutes to the airport. The airport staff is actually very friendly and helpful (you can imagine the contrast to our reentry into the U.S. at JFK).
Lessons from the trip:
If you drive out of Dublin, it is well worth the extra effort and time to go back to the airport to pick up your car after your stay in the city. Traffic is every bit as crazy as you'd expect in a big city – and they are all driving on the wrong side of the road!
Before I left, a friend gave me this advice, and I am passing it on to you: Ireland is always colder than you think it is going to be.
If I had to do it again, I'd do a two-week trip to Ireland one year, and a two-week trip to Scotland the next (or vice versa). It took a full day to get from Dingle, Ireland to Edinburgh, Scotland. We could've been doing something more fun that day!
Ryanair is great and inexpensive – just be very sure you do everything exactly right. Too many bags will cost you. I did not print out the boarding passes ahead of time (we were traveling!) and we ended up paying 50 additional euros EACH.