I can highly recommend traveling to the Canadian Rockies in the summer, especially if you live in a warm, humid city in the South! It was a little crowded but the relief of lower temperatures more than made up for it.
We flew into Calgary on a cold, rainy day and headed immediately to Banff. The small town is charming and we loved walking and exploring. Fortunately the weather changed (that is a recurring theme in Canada) and we were able to stroll about without getting wet.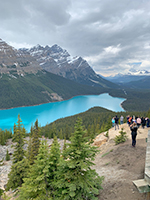 We traveled once again with friends. Our challenge this year was my husband recovering from minor surgery that turned out to be a much bigger pain (in all ways) than we realized. It limited his mobility somewhat, but not to the point of infringing on our activities and fun.
We headed for Jasper the next day, driving along the Icefields Parkway. Everything we'd read said to take your time down this amazing highway – and I'm so glad we did! We stopped at stunning blue, green, and turquoise lakes, hiked to the "toe" of a glacier, and stopped to see waterfalls, canyons, and wildlife.
There is not a place to eat along the Icefields parkway, so be sure to pack a picnic. If you can't find a picnic table or it is raining, eat in the car!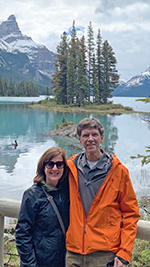 A highlight of the Jasper area is Lake Maligne. We took a Lake Maligne Cruise to Spirit Island, one of the most famous views of the Canadian Rockies accessible only by boat.
After three nights in Jasper, we headed for Lake Louise. We stayed at the wonderful Post Hotel and Spa for three nights. With over 2,600 wine selections and an absolutely delectable menu, the Post restaurant is a must!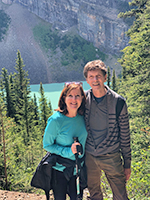 We had our most strenuous day hiking to Lake Agnes, 3 miles and 1,200 feet above Lake Louise. Lunch at the Lake Agnes Tea House, a tradition since 1905, was a nice treat – the mountain bar dessert was yummy. Plus we definitely worked off those calories!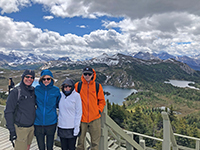 Before our final three nights in Canmore, we took a gondola and a chair lift to Sunshine Meadows, a gorgeous alpine meadow with incredible mountain views. It was just as cold as it looks in our picture at the first viewing platform, but the day grew warmer as we hiked.
Canmore was another small charming town with good restaurants, shopping, and easy hiking trails. We stayed in a VRBO within easy strolling distance of downtown. It was a relaxing way to end our vacation!
Lessons from the trip:
Always take a raincoat in Canada! A good one is worth the investment. Get one with decent-sized zippered pockets to keep your phone dry.
Take the time to get local currency before you travel. Only one of our party was smart enough to do that, and she ended up paying a lot of incidental expenses along the way. (We paid her back, I promise!)
Along those same lines, familiarize yourself with the currency – know how much each coin is worth. My friend gave each of us two coins worth $2 CAD each. We all thought each coin was $1, overpaid for a bus ride, and had to take a long (but beautiful) walk back to our hotel because we were out of cash!
Pack light! Know where you can find a laundry in more than one place and wash a load so you can wear things more often.
Freelance copywriting tips:
Do not forget your journal! I did – I purchased one about 2/3 of the way into the trip, so I lost out on recording some of our first impressions. Writing reviews on Trip Advisor is a great way to recall your trip, hone your skills, and help fellow travelers. I write reviews as gayeswan for hotels and restaurants that we visit whenever we travel.